Zhang Chunhe -----the General Art Consultant of Baisha Naxi Embroidery Institute.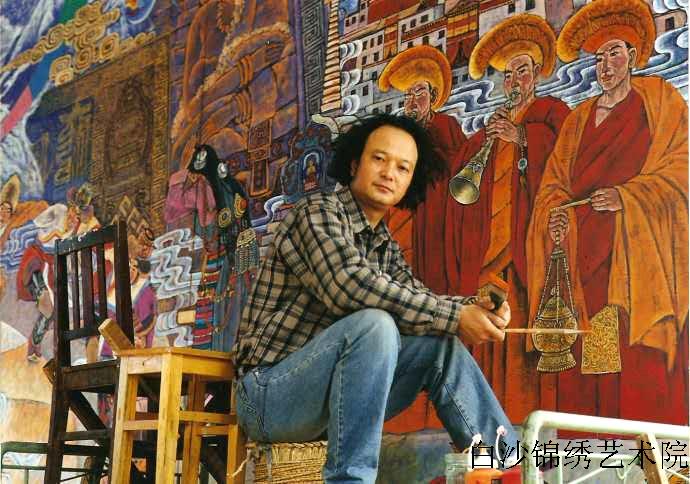 Born in Lijiang of the Naxi tribe, Yunnan province,in 1958 and graduated from the Fine Art Department of Beijing's Central Academy of National Minorities in 1987.He always has been devoted to the study of modern Dongba-style painting and is one of the most representative pioneers in the modern Dongba style painting. Currently working as a production designer at the August 1st Film Studio in Beijing,while serving as a member of China Artists Association, Director of China Murals Association,Vice-Chairman of the Association for the Promotion of Dongba Art&Culture in Beijing,Vice-Chairman of the lnternational Society of Naxi Studies.Zhang is also a member of the Murals Committee of the Architectural Society of China.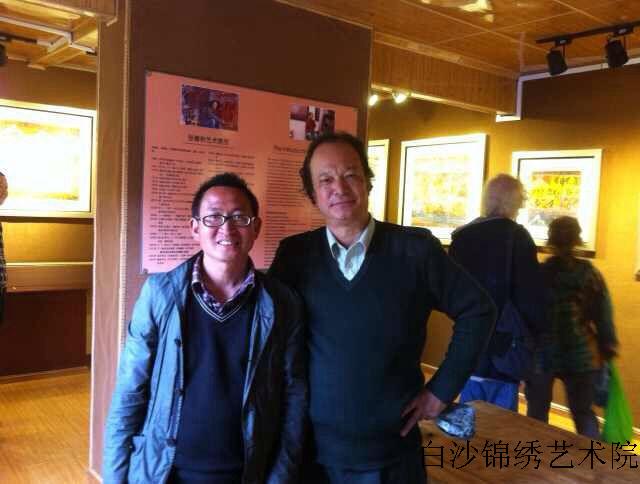 Exhibitions&Awards
1987: solo exhibition in Beijing.1990: solo art exhibition in Japan.1992: The 1st Contemporary Art Exhibition,Israel and s solo-exhibition in Beijing.1993: took part in exhibition at the Embassy of Mexico, Beijing and in Germany.1994: joined exhibition at the Embassy of Romania in Beijing, and in Germany.1998: exhibited in Beijing and won the Best Work award for The Temple of Dongba at the National Mural Grand Exhibition.1999: two murals selected for the National Mural Grand Exhibition.2000:entered Shangri-Lafor The 9th National Art Exhibition and a solo exhibition in Singapore.2004:Soldiers Marching across Yunnan:Celebration chosen to enter the 10th National Art Exhibition.
Publications
Had published a series of personal catalogues such as Contemporary Dongba Paintings of Zhang Chun He and A Collection of Zhang Chun He's Works etc.
Collections
Around 100 works acquired by China National Museum of Fine Art,the Beijing lnternational Yiyuan Art Museum,the Museum of Ethnology at the University of Zurich in Switzerland,and the Art Gallery at the University of Alabama in America,Chinese as well as overseas commercial organizations and private art collectors.
"The works of translation carried out by the Dongba Culture Research lnstitute,in a state of urgency, are not just attempts at"literaryrescue",but also "pictograph rescue",since the use of pictographs is fast disappearing.
Dongba pictography is reborn in the works of a few modem Naxi painters who are in coorporating them in the composition of their paintings.These painters,who are mostly scholars as well,have a deep knowledge of Dongba pictograph. Their artistic styles are quite different but they all take Dongba pictographs as a source of inspiration. Modern Dongba painting is interesting for its artistic value, and more importantly for its cultural transmission role.It is almost the last lively form of Dongba pictography, and represents the assimilation of religious principles into the area of art. And this is how these Naxi artists are reacting to the rapid disappearance of their culture."
—Ms Juliette Debon, French Scholar zhu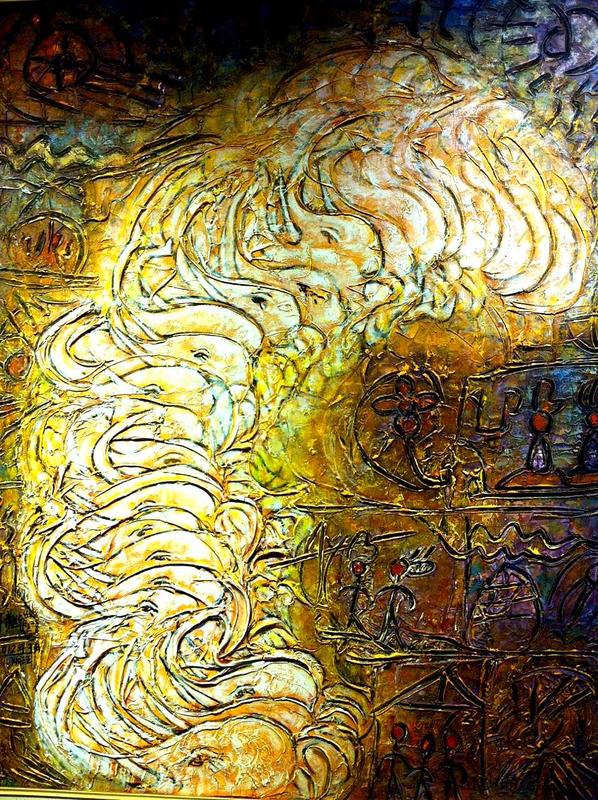 Every time immerse fully to the creative process, it ls like entering into a sort of visionary state of mind, which transcends the ordinary, every day world. In this state, I can literally feel the soul of our people's venerable ancestors touching me, triggering a chain reaction of creative inspirations inside me. In my work, I want to visually express the unending Karmic wriggles of human life: birth and death, reality and illusion, good and evil. I attempt to merge my inner world into the vast universe to better express the union and nature and mankind, the continuous dialogue.