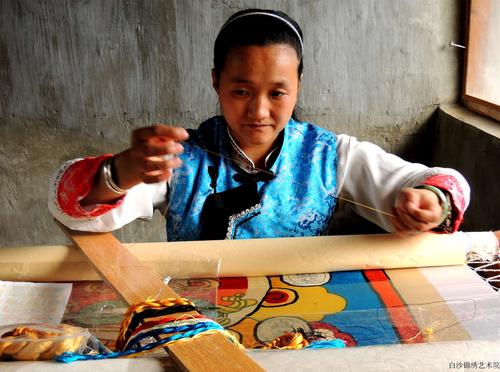 Yang Jinfeng: Naxi nationality,born in 1986,embroidery master of Baisha Naxi Embroidery Institute,Yunnan Provincial Embroidery Master.She started to embroider since a little girl with very good talent. She is very modest,kind and clemency,creative and full of fantasy.
She is very diligent,learnt skills from different masters and combined the traditional embroidery with the modern to form her own style.With a young age,many of her work won golden,silver awards in both municipal and provincial level,and she was listed to be one of the Provincial Embroidery Master by "Yunnan Crafts and Arts Association" in 2016.
Her works are very popular and collected by many people and collectors from both in home and abroad.Her representative works are: The Charm of the Great Man Sun Yatsun , The Dongba Holy Road to Heaven, The Treasure Horse.